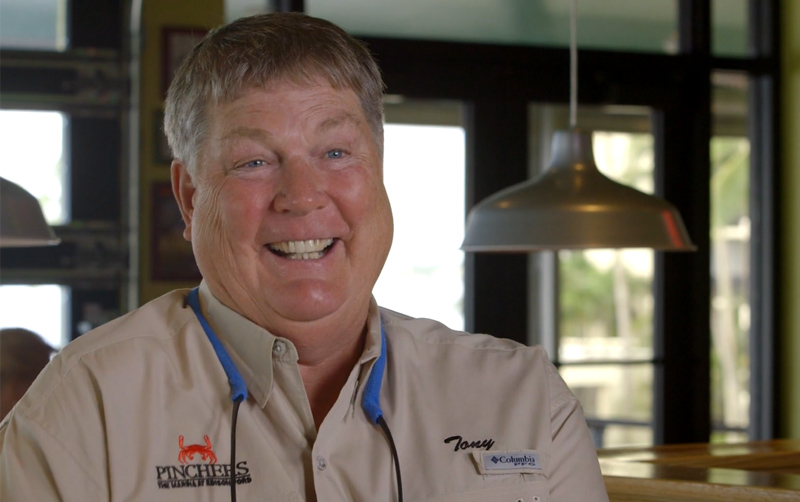 The Man, The Myth, The Legend
Raised in the Lone Star State, 'Texas' Tony Phelan has spent a lifetime traveling across the globe and embarking on new and exciting business ventures. From oil to restaurants there is no limit to his entrepreneurial spirit. He would eventually start a family of his own with his wife Kathleen and in 1987 moved to Southwest Florida and established his first Florida based restaurant, Pinchers Crab Shack in Bonita Springs. After a highly-successful first year, Tony set his sights on adding more and with the assistance of his son Grant Phelan (current owner), his prospects have grown into a family owned empire of 13 Pinchers location, 1 Texas Tony's BBQ restaurant, and soon to be 2 Deep Lagoon Seafood restaurants. Tony's compassionate nature, coupled with the ever growing success of the company he founded, has afforded Phelan Family Brands the opportunity to support and give back to the Florida community in a huge variety of ways. After years of hard work and dedication Tony now seeks to 'Live the Florida Life' by guiding us to some of the most popular Florida attractions, artists, and restaurants.
On this segment, we go travelling with Tony Phelan to visit the pearl of Matlacha island, world renowned artist Leoma Lovegrove. We get an inside look at her art gallery as well as some history behind her continued success.
Here we catch a glimpse of the Hemingway Lindsay Family with interviews from the niece of Ernest Hemingway himself; award winning screenwriter and Author Hilary Hemingway and her husband Jeff Lindsay, the bestselling author of the Dexter series of novels.
Here we discover one of Southwest Florida's most dynamic entertainment duos Darryl and Andrea Gatlin. As a former Nashville star and cousin to the famous Gatlin Brothers, Darryl gives us an inside look at his rise to fame, and a history of their success over the years as one of the most popular singing acts around.
Take a step into the life of world renowned photographic artist and humanitarian Clyde Butcher. His style is unique, and his art is breathtaking and has captured the attention of people from all over the world.